For some people yesterday, gratitude was the furthest thing from their mind. I could be wrong, but as one of the busiest shopping days of the year (if not THE biggest shopping day), people were going crazy!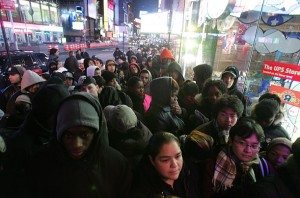 In one article from the Boston Herald, "By midnight, highway backups at the Wrentham exit were three miles and getting in or out of the outlets' parking lots took up to two hours."
The picture here was from Time magazine and shows the people waiting in line outside the Toys 'R' Us in Times Square New York City. If you look carefully enough, can you see me in that picture? Do you see the person in the red hood – go back a few people. Can you see me now?
Probably not. And with a good reason! I was not there! I was no where near any stores. I am grateful that at 4 am I was snug in my bed. Sleeping soundly. And nice and warm and cozy. I avoided the retail stores as best as I could.
My plans on Friday included rest, relaxation, watch a few movies, and taking it easy. I got some of that done. What I did not have in store was to go out into ANY store. But guess what happened… Yup! I ventured out!
I felt lucky that I would not (or should I say, should not) hit any of the real hectic locations for I was off to Home Depot. I needed to patch up a wall that used to have a shelf on it. Now, there is no shelf and I have a pile of 'stuff' on the ground below the former site of a shelf. The paster was n
ow exposed so I had to get materials to patch it up.
Fortunately for me, Home Depot was calm. And so was the roadway there. After I was there, I stop for a cup of coffee at Starbucks. Ahhh nothing like a Raspberry Triple Venti White Chocolate Mocha to hit the spot (sounds like I really wanted desert, not coffee…) I popped in next door to Origins and was now 3 for 3 in calm places.
Finally I had one last stop to make – Staples. As their tagline states, "Yeah, that was easy" – I guess I can agree with that. The parking lot was a mess since it is shared with Toys "R" Us (again for reference purposes, look at the picture again…). Since I was in there around 4 pm, and not 4 am, perhaps that is the reason why it was calmer than I expected. I will say that I spend about 60 dollars MORE than I thought I would, but I could not resist the specials. I guess you can say I am grateful for the bargains I received.
All in all, not a bad Black Friday! And for that, I am full of gratitude.