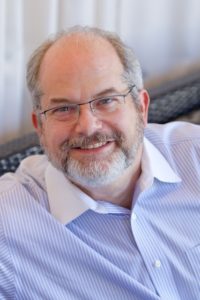 So, it's All About Gratitude, huh?
Welcome! My name is Paul B. Taubman II, and I started blogging All About Gratitude.com to help express my gratitude towards everything around me. I found that life gets better and better the more I think about people, places, things, actions, abilities, thoughts, and feelings when I feel grateful for them in my life.
I have been asked many times, "Paul, when did you develop such an interest in gratitude?" The short answer is that it has developed all my life. The longer answer is that it started early on as a child, and circumstances were ripe for me to start to appreciate the
things that I had (instead of caving and focusing on the things that I did not have). A prime example of this was my college experience.
When I went to college (I graduated from  Rochester Institute of Technology), at the time, there was no way that my Father and Mother could afford it! I had the mindset that if I could get admitted, I would attend, and I would figure out the money later on. I was excited when I did get my acceptance letter from the Admissions Department that invited me up for the next 5-years (yup! it was designed to be 5-years… 4-years of studies and 1 year of Co-op experience). My college experience, tuition payments, and lack of funds is a whole other story for another time.
But when I was in college, I ended up buying two new cars for my family. Now, I didn't have a job at the time – I was working just to pay for college, and I am not sure how I managed all of that.
But the point is, at the time, all my friends thought I was crazy! They were asking me,  "What are you doing? Children don't buy cars for their parents! It is the other way around! Parents are supposed to do things for their kids. " And I remember saying to them, "You know what? They have done a lot for me, they have helped me out, they have provided for me all these years, and if this is something I can do for them, that's what I am going to do."
Looking back, it was at this point I realized that I was grateful for what they did and how they raised me. Gratitude has been around for quite a long time. As things continued, I just continued to share and give and do for anyone that needed something like that.
Once I realized that having a certain level of gratitude can make life easier, I simply continued to look on the bright side, be grateful, and enjoy life.
As a matter of fact, I am grateful that you are reading this right now! I thank you with all the gratitude in my heart.
Paul B. Taubman, II, aka, The Gratitude Guru, is the founder of the website www.AllAboutGratitude.com. Paul has been spreading gratitude and happiness for over 3 decades. As an international speaker and trainer, Paul utilizes his talents to help individuals shift their mindsets to become more grateful and empower them to live a more rewarding life.
Using simple techniques, Paul helps people enrich their lives and helps them move past feelings of despair, pity, misery, and gloom and moves them towards joy, love, happiness, and of course, gratitude.
For your free Gratitude Burst, visit www.AllAboutGratitude.com