I admit it… I am a Slacker!
Today's Burst talked about not being in alignment (if you don't receive the Gratitude Burst each day, you can sign up for it in the Sign up box at the top upper-right corner of this page).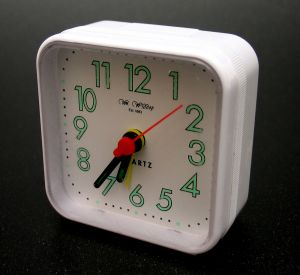 I start my day with thoughts of gratitude as the Opportunity Clock wakes me up. This is easy to do for me. It certainly is a habit – I am not slacking there.
However, there are times when I am dealing with certain people and I get frustrated with them. When I slip, I slip! Gratitude is far from my immediate thoughts. I know I should be grateful for having the opportunity to interact with them, but sometimes I just let that crazy feeling inside of me get out. I get 'passionate' about what is wrong. I get more excited about doing the right thing (or seeing them NOT do the right thing). I let myself completely get wrapped up in the frustration and I find myself moving 180 degrees in the wrong direction I want to be going.
Gratitude can be a way of life. It will allow many wonderful things to happen in your life if you let it. The key is to continually focus on it so you can reap the benefits. I need to take a deep cleansing breath the next time I find myself in that situation and think about how I can be grateful. I admit it… I am a slacker at times in this area. But, at least I admit it and I am working towards cleaning myself up.
Is there an area that you find yourself needing some work? Leave a comment.
Be Well.
Paul.
The Gratitude Guru