Gratitude For The Simplicity Of It All
As you can see, today's blog post is titled, "Gratitude For The Simplicity Of It All". Sometimes I post about materialistic items for which I am grateful. Other times I have written about things a bit more spiritual. I have posted videos that bring joy and gratitude to me. As I was driving to work  I was thinking about something that everyone can relate to – what is it that people can relate to regardless of financial situation, social climate, age, and gender?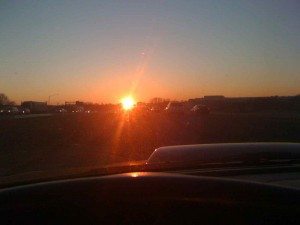 I turned around the bend on Route 287 in NJ and I had my answer. What is something that everyone can express about for his or her gratitude? I saw the sun rising over the horizon. When was the last time you though how grateful you are for the Sun? Without it, no one would be
here. It provides warmth (much more in some locations than others), provides light, helps the plants grow, it shares beautiful colors at when it rises and when it sets. There is so much gratitude that comes from something a gazillion miles away!
OK – in all honesty, it is not a gazillion miles away; the sun is actually 93,000,000 miles (150 million kilometers) from the earth (give or take a few miles).
With that said, think about the freebies in life that bring you joy, love, gratitude, and happiness! It is not always about money (and I have written about that before). The money is nice, but the majority of the time, money is NOT the answer. What are 3 things right now that you can be grateful for? For a bit of a bigger challenge, what are 3 things that do not cost you anything, something completely non-materialistic, that you are thankful for?
It is easy to think 1) The Sun; 2) The Air and Oxygen;  3) Water; and 4) Opossums (or not…).  Great! At least you have 3 good things – you can decide on #4 there :-)! What I want you to really do is to feel the emotion that is associated with your 3 items. Feel the gratitude that it stirs up. When you start to get moved deep inside of you, your day will continue on much better. You will start to think about the positive aspects.
Life is good! Go enjoy it and celebrate it!
Be Well.
Paul.
The Gratitude Guru