Gratitude, MoMA, and Soup
(Note: this post was updated )
Today's Gratitude Burst that was sent out was from Andy Warhol. I remember the first time I saw his work. My Mom took my sister and my brother and I to the Museum of Modern Art on West 53rd Street in New York City where I grew up. One of the first pieces I saw of his (or at least that I remembered when I was about 5 years old) was Warhol's painting of the Cambell's Soup Can.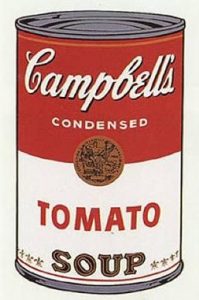 I remember seeing and wondering how in the world this could be art! Of course, I also thought that I could give Jackson Pollack a run for his money as well. Actually, I was more of an artist like Pollack than Warhol!  I had a lot to learn about art at that point!
I also remember trips to the Guggenheim Museum on 5th Avenue (across from the Central Park), as well as trips to the Metropolitan Museum of Art, just about 6 blocks away from where we lived. My favorite museum of all time, however, is the Museum of Natural History on Central Park West. We lived about blocks (2 LONG blocks) from the Museum of Natural History and went there frequently. I remember going there on School Trips as well (P.S. 87 was only a block away!).
What childhood memory do you have that makes you smile? As soon as I think of the Museum of Natural History, I just smile 🙂 Leave a comment and share!