Express Gratitude for a Mural
Here is a picture of a mural that was done at my friend's school. She led the effort of coordinating a children artist and a team of 5th graders. (Clicking on the picture will give you a better view of it).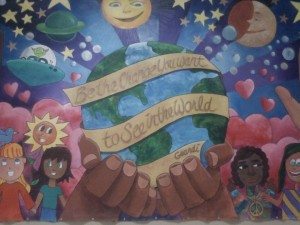 Of the many things I like about it, I love the design, I love the colors, and I love the quote! This quote actually went out on the Quote of The Day a while ago. That makes me ask the question… "Did the Quote of the Day inspire this masterpiece?"
🙂
Be Well.