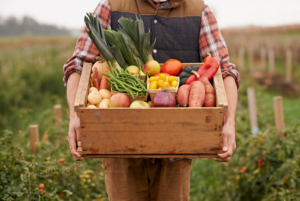 I recently joined a farm co-op. My part of the partnership is that I pay for a season's worth of fresh veggies and the farm grows, harvests, and delivers them to a local pickup location in my town. I tried to join last year, but my application got in too late and they had selected all their members for that season. This year I was ready! My application got in before the end of the first week was opened and my application was accepted.
I was excited by this! And even more exciting was that Sunday was the first day to pick up the first box of fresh, locally grown, organic vegetables! I was psyched to go and get them and anxious to express my gratitude to them for all they done by making all of this possible (that may have been a very long run-on sentence, but I am feeling the same excitement as I type this as I felt this morning!)
Pick Up was available from 9 am – 1 pm. I was there a couple minutes after 9 am! Much to my su
rprise, the veggies were nicely boxed up and sitting on the porch of someone's house! I am not sure what I was expecting – maybe a small scale Farmer's Market – but a house porch was not it!
In addition, there was no one there to thank! It was the honor system. Pick up your box, check off your name on the sheet, and have a nice day.
BUT I WANTED TO THANK SOMEONE!!!
And then it dawned on me… It should not be about me. I had the best intentions, but I should not get angry because someone did not want to accept my thanks (at the time I wanted to give it). I had lost something in the build up of giving the thanks. I had become disappointed even though it should not have been about me.
I am not sure you should get excited about giving thanks. Giving thanks because you are grateful is one thing. To get something back, to derive something from giving thanks, to have an expectation (even if it is to feel good), is not the truest form of gratitude. If you hold the door open for someone and they do not say 'Thank You,' do it bother you? It should not. If it does, it indicates that you are holding the door open with the EXPECTATION that you will get a 'Thank You' in return. While it may be polite for the recipient of your deed to say, 'Thanks,' you should not feel one way or another if you do not get one.
Think about it…