Gratitude Recharges Your Life
[Note: this was updated on Aug 19, 2018]
Have you noticed that gratitude can give you a boost and recharge your Life Batteries? When you are feeling a little down and out, or feeling a little sluggish in general, try thinking of some things that bring you more gratitude.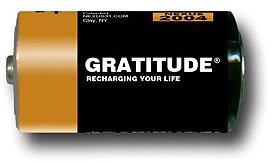 Another quick pick-me-up is humor! Take a break (even if it is for 5 minutes) and watch your favorite comedy! I have also found that listening to music is another great way to recharge your batteries.
Please leave a comment and let me know what the methods that you use to recharge your gratitude batteries.
Be Well.
Paul.
The Gratitude Guru