Here's to Good Friends, Tonight is Kind of Special
A friend whom I have not seen in years (if you do not count pulling up to him at a random red light) held a get together down at the shore tonight (the New Jersey Shore). In order to get there after work, I had to head south. If you are not aware of what this means, let me explain. Here in NJ (especially during the summer), traffic going South on a Friday night can be very heavy. Everyone is going to the shore for the weekend. I had mixed feelings of wanting to deal with the traffic and started to question if it would be worth it. At the end of the day which actually  ended a little later than I wanted at work), I made the pilgrimage down to Club.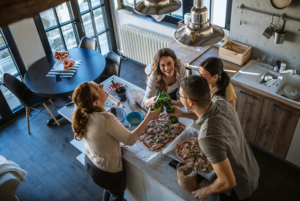 Surprisingly, the traffic was bearable – almost enjoyable! Of course, it was great to catch up and I am absolutely grateful that I followed through with my original decision – I had a blast! As the soirée was wrapping up, I was told that a mutual friend of ours (another friend I have not seen in many y
ears) was playing at a restaurant near by. Once there, I caught up with 2 more friends and their wives as well as the friend I went to see perform.
All in all, it was a wonderful evening! I think the important thing to take away from this is that when you feel inspired to do something, go and do it! Don't let thoughts of traffic, other people, money, public opinion, or anything else get in the way.
Ever experience anything like this? If so, leave a comment and let me know! Thanks!
Be Well.
Sign up for the Gratitude Quote of the Day at:
www.AllAboutGratitude.com