The Gratitude Levels were overflowing over the past couple of days. As you may know, on December 2, 2010, I donated my bone marrow to someone who needed to have a bone marrow transplant. Today's post is going to be about gratitude of many people involved.
A few facts about the process – I was selected because I was registered at the HLA Registry. I signed up to be on the Bone Marrow registry about 10 years ago when I was donating platelets. About 6 weeks ago, I received a call indicating that I was a potential match and additional testing was required to see if I am a true match.
For the first step, I had some blood drawn for the additional blood typing. I went to a local lab here in town and a few days later I was told that I was a match! After all the testing, my blood cells would be accepted by the recipient! i still could back out and make the decision not to donate; I was asked if I wanted to proceed with the process. Without hesitation, I said, Yes!
The next step was to get a complete physical and to speak with a physician about the procedure. I had a choice to have the "harvest" performed in New York City or in Philadelphia. I selected Philly as long as the scheduling and logistics were just as as it was in NYC. As it turns out, I was able to get the appointments lined up easier in Pennsylvania so Philly it is!
The recipient of my bone marrow is top-secret! I do not know him – all I know is that he is a 57 year old male that has aplastic anemia. This is a condition where the bone marrow does not produce sufficient new cells to replenish blood cells. The condition, per its name, involves both aplasia and anemia. Typically, anemia refers to low red blood cell counts, but aplastic anemia patients have lower counts of all three blood cell types: red blood cells, white blood cells, and platelets.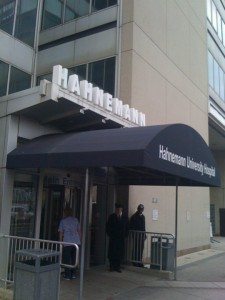 The HLA registry treated me like royalty! They provided me with a limo to take me down and back to the Hahnemann University Hospital. All I had to so was get in the car. No worries about traffic for me!
Once at the hospital, I had more blood work drawn, an EKG, and I discussed the process with one of the physicians from the practice that will be doing the harvesting. We talked about the procedure, the prep I needed to do prior to coming in, and what to expect after the procedure.
One thing I noticed throughout the entire day was the people I came into contact. EVERYONE was really nice and really friendly. They all took the time that was needed and each one expressed their gratitude to me for volunteering to go through the donation process.
Sometimes doctors seem to rush through an appointment in order to get to another one. It certainly did not feel that way while I was there. Was it because I was donating my bone marrow? Was it the way they always acted at the hospital? I do not know. I prefer to go with the later!
See Part II of the procedure in the next post!
Be Well.
Paul.
The Gratitude Guru