I usually do not publish news stories, but this is certainly something which we need to be grateful:
Passerby teams up with Bravest to save boy in fourth-floor rescue in Bronx
By John Lauinger
DAILY NEWS STAFF WRITER
A good Samaritan perched atop a fourth-floor fire escape helped firefighters stage a dramatic rescue of a young boy from a burning Bronx apartment on Wednesday.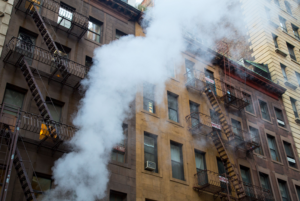 Firefighters from the FDNY's Ladder 47 raced to 1418 Zerega Ave. in Westchester Square shortly after 4 p.m. and found a fourth-floor apartment ablaze – with two people trapped inside. The truck's ladder was raised up to the burning apartment's window and Firefighter James Senk scampered up it – and bashed his way inside.
Once inside the smoke-filled apartment, Senk found a 4-year-old boy a short distance from the window.
"He goes 10 feet deep into the room, and pulls the kid out to the window," a Fire Department source said. Just outside the window, neighborhood hero Horia Cretan – who had shot up the fire escape when he saw the blaze – waited to make sure the seriously injured boy made it to safety.
The firefighter passed the boy into Cretan's waiting arms, officials said. Cretan then bravely carried the child down the fire escape and handed him over to rescue workers. He said he just reacted instinctively. "I heard somebody scream; I didn't know what was happening outside," he told Fox 5 News. "I looked up and just couldn't see anything – there was too much smoke. I just kicked in – I kicked in gear. … I did the best I could."
The boy, who was not immediately identified, was in serious but stable condition at Jacobi Medical Center Wednesday night. An unidentified adult also was rescued from the apartment and was in serious but stable condition at the same hospital Wednesday night, a Fire Department official said.
The blaze, which was brought under control in roughly 40 minutes, was under investigation Wednesday night, the official said.
You can see some of the footage here.
Be Well.
Sign up for the Gratitude Quote of the Day at:

www.AllAboutGratitude.com