Certain "things" are a 'Sure Thing' to increase my gratitude. Today I spent time with my family at the John and Mable Ringling Museum of Art. Yes, it was the "Ringling Bros. and Barnum & Bailey Circus" Ringling!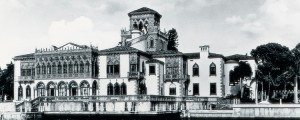 (Picture from Ringling.org)
In 1911, John Ringling and his wife, Mable purchased 20 acres of waterfront property in Sarasota, Florida.
They proceeded to build Cà d'Zan (The House of John). This mansion has 56 incredible rooms filled with art and original furnishings and were available to be toured. Let your gratitude fly as you walk through this building. It was tough to imagine that this was someone's home!
Not only were the furnishing amazing, but the architecture was awesome! Even through I don't think I would want to live there (after all, the furnishing and decor was from the early 1900's) it certainly was a sight to behold. The view out on the terrace overlooking the water WAS something that I am sure I could get used to.
Setting a goal to have my own home like this may not be for me. Even if money was no problem and I could afford something like this, my style is different. I would like something on the water, but I think I have less lavish tastes. Would my answer be different if my lifestyle were different? I don't know. But given where I am now, I can easily express my gratitude for my current 'simple' home.
Since vacation is still going strong for me right now, this post is a little short… But I will be back with more of an update tomorrow. Until then –
Be Well.
Paul.
The Gratitude Guru