Gratitude: The Empty Boat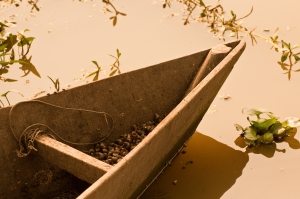 If a man is crossing a river, and an empty boat collides with his own boat, even though he be a bad-tempered man, he will not become very angry.
But if he sees a man in the boat, he will shout at him to steer clear.
If the shout is not heard, he will shout again, and yet again, and begin cursing.
And all because there is somebody in the boat.
Yet if the boat were empty, he would not be shouting, and not angry.
If you can empty your own boat crossing the river of the world, no one will oppose you, no one will seek to harm you.
– Chuang Tzu
I think this is pretty interesting! Depending on the circumstances, we get angry at different things. When we boat is angry there is nothing to get angry at since we cannot necessarily place blame.
However, the same boat with someone in it – now we can associate someone / something in which we can direct our anger. So we easily get angry.
Aren't you better off not getting angry to begin with?
Just something to think about for today! And as you think about it, leave a comment below and share your thoughts!
Be Well.
Paul.
The Gratitude Guru