The Tigers and the Strawberry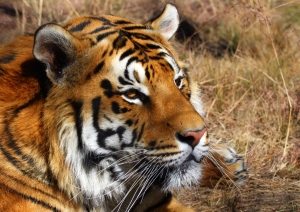 This story came my way, and I wanted to share it with you:
There was a man walking across an open field, when suddenly a tiger appeared and began to give chase.
The man began to run, but the tiger was closing in.
As he approached a cliff at the edge of the field, the man grabbed a vine and jumped over the cliff. Holding on as tight as he could, he looked up and saw the angry tiger prowling out of range ten feet above him. He looked down. In the gully below, there were two tigers also angry and prowling.
He had to wait it out.
He looked up again and saw that two mice, one white, the other black, had come out of the bushes and had begun gnawing on the vine, his lifeline. As they chewed the vine thinner and thinner, he knew that he could break at any time.
Then, he saw a single strawberry growing just an arms length away. Holding the vine with one hand, he reached out, picked the strawberry, and put it in his mouth.
It was delicious.
Comment:
There is often a desire to complete the story, to find a way out of this predicament or that dilemma. It is easy to forget that within the limitations of the moment, there is freedom. In this story, it's the experience of the fresh taste of the strawberry. It is different in each case. Not every day can be an easy day for anyone. The freedom of the moment is always available, even when circumstances are grim.
Be Well.
Paul
The Gratitude Guru