Looking for a fun and interesting book On Gratitude? Check this out and ask yourself, What Are YOU Most Grateful For?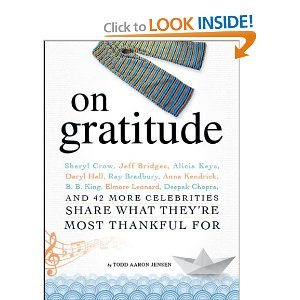 Ricky Gervais says . . . Pajamas.
I've started wearing pajamas out, because they're more comfortable than trousers. (Laughs) I started out with jeans, then went to sweatpants about ten years ago. Now it's just pajamas. I wore them to the White House. I've gone whole hog.
Dolly Parton says . . . Humble Roots.
I think being brought up dirt poor left with me with a feeling of what it was like to go without, so I can relate when people are having a hard time. In my case, being a songwriter, I'm able to write not only for and about myself, but for what I know other people are feeling, even if they don't always have the means to get their voices heard.
Anne Rice says . . . Clackety-Clack.
My stepmother, who was a very practical, wonderful woman, took me into Dallas before I went into college to buy me a typewriter. She picked out this wonderful little portable one, black and white keys, and it was real fast. I still have it. I won't give it up.
In this enlightening and engaging collection, celebrities from Seth Rogen and Sheryl Crowe to Joyce Carol Oates and B.B. King share the people, places, and things for which they are most grateful. Alternately sentimental and surprising, wise and wacky, these heartfelt "gratitude bucket lists" as described by some of our most beloved artists are sure to inspire readers
everywhere to make their own lists–and live their own lives with more love, affection, and thanksgiving.
On Gratitude: Sheryl Crow, Jeff Bridges, Alicia Keys, Daryl Hall, Ray Bradbury, Anna Kendrick, B.B. King, Elmore Leonard, Deepak Chopra, and 42 More Celebrities Share What They're Most Thankful For
is an easy read and fun to learn about people that you know about.
Be Well.
Paul.
The Gratitude Guru