Gratitude on Valentine's Day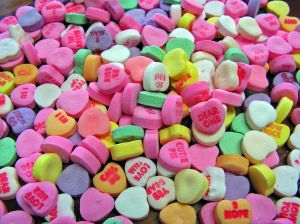 Have you realized that Valentine's day is all about expressing your gratitude? It certainly is!
Sure, the media and card companies have a vested interest in making February 14th another socio-economic, materialistic, chocolate eating day. More heart-shaped boxes are sold for Valentine's Day than any other day. On a side note, I remember all the years that my father would buy my mom a nice big box of chocolates for Valentine's Day. Of course, he was the one who would eat all the chocolates! And then he would sneeze his head off since he was allergic to it! But I digress…
Today is the day when you are supposed to express your gratitude towards the one you love. Everyday should be Valentine's Day! You should never take anyone for granted! Ever. The opposite of gratitude is taking someone for granted.
If you want to give the stereotypically flowers and chocolates, take the time to reflect what it is that you appreciate about the person receiving your gifts. Don't do it just because, 'it is the day to do so'; do it because you want to express your gratitude. Celebrate everyday (just like Thanksgiving should be celebrated everyday)!
One last thing to mention… Feel free to share your love on all levels with all people. Spread the love.
Be Well.
Paul.
The Gratitude Guru