It's November! Happy Gratitude Month!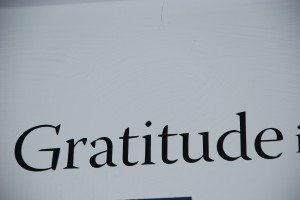 Seeing that today is November 1st, some say this is the start of the Thanksgiving season. The big celebrated day of Gratitude is only 23 days away! Of course, if you have been a visitor of this site for anytime, you know that I practice gratitude all year long!
With Thanksgiving occurring this month, you have the perfect opportunity to start a practice and keep with it for 28 days! Why not start a new practice of expressing your gratitude for the next 28 days! I am going to make a concentrated effort to explicitly ensure I express my gratitude each and every day in November.
What do I expect to happen from this? I think Life will smell a little sweeter. I think that appreciation will come easier. I think that good will triumph over evil. I think that having a concentrated dose of gratitude will make life better – not just for me, but for everyone I come in contact with (and possibly everyone that then encounter after that).
In addition, I will post each day a short account of what I did.
Would you like to join in on the fun? Please do! How can you do this? Here are 3 great ways that you can do it! (As we go through the month, I will also include other ways that you can express your gratitude!)
1. When you wake up each morning, list 5 things you are grateful for – just think of them as they just pop in your head! No need to keep a formal list and write them down (unless you really want to be diligent), just wake up thinking about them.
2. In the evening, you can do the same thing. Instead of when you wake up,  list another 5 things that you are grateful for as you have your eyes closed and are going to sleep.
3. Try sending someone a card each day letting them know that you are grateful for them! Here is where I get my cards from – Your Card Factory (you can even send a real card for free!)
Try doing one of these, or, if you are really ambitious, do all three!
Give it a shot!
Do you think you will be trying this out? Leave a comment and let me know what you will be doing!
Be Well.
Paul.
The Gratitude Guru