Attitudes of Gratitude: How to Give and Receive Joy Everyday of Your Life [Paperback]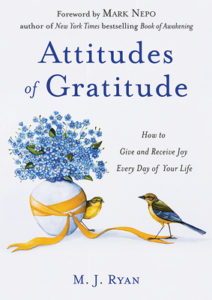 Today starts a new section on the All About Gratitude website called, Resources. Various materials will be showcased here – books, audio programs, interviews, writings, pictures, drawings, and other resources all pertaining to Gratitude will be shared.
Here is an Amazon Book Review to kick things off!
"I'm thankful to Mary Jane Ryan because her candid and story-filled book reminds me to return to my heart-the home of gratitude- and consequently, enhances my connection with all that is wonderful and wise around and within me." – Sue Patton Thoele, bestselling author of Woman's Book of Courage, and Courage to be Yourself
…an inspirational treasure. A gift for the self or for those who might need a warm and gentle nudge to adjust their attitude. T.W. © AudioFile 2003, Portland, Maine
Exquisitely reconnects us to the wonder and satisfaction which can be found in our daily lives….A delightful book for anyone who wants to focus on the joy and satisfaction in their everyday life. – Judy Ford, author of Wonderful Ways to Love a Child"
In this inspiring book, author M.J. Ryan shows readers how to nurture this attitude every day of their lives. Short, easy-to-digest essays explain why gratitude chases away negative emotions – and how gratitude is possible even in times of pain and hardship. [End of Amazon's content]
This is a great little book that I frequently carry around with me. My wife actually picked this book up for me a present a year ago or so and I find it a quick read and to the point. There are many short little anecdotes that need not be read in order. If/when I need a quick gratitude pick-me-up, I know that I can always turn to this book and glen some nugget quickly!
If you are looking for a good book on gratitude, this is an exceptional place to start! For about the cost of 2 cups of coffee at the local high priced coffee place (I am a huge fan of theirs 🙂 you can pick up a copy of this book! Click on the picture for more info at Amazon.
Be Well and share your attitude of gratitude with everyone you see today!