I have so much gratitude for a free online tool that I use to manage my To-Do list! I cannot imagine what I would do without it. I chuckle when I think about all the methods I used in the past! I had all sorts of scrap papers in my pocket, and I used various computer programs (even one my best friend, Marco, wrote), and I tried incorporating post-it notes into my Franklin Covey planner… You name it, and I think I may have tried it at some point.
But now… Oh my! Now, I absolutely LOVE a free online / iPhone app called, Toodledo! As I mentioned in the Gratitude Burst today, I currently have 55 items on my list. I like to order them by Date, although I can order them by Folder, Context, or even Priority. If you have any experience with the GTD system (Getting Things Done by David Allen), this website will incorporate a lot of that system.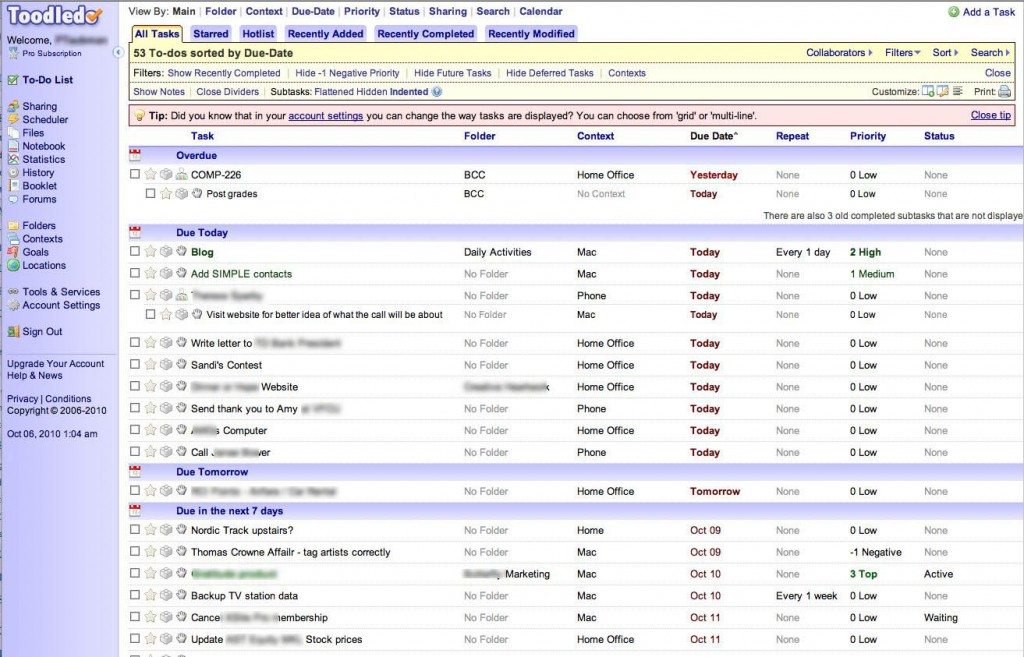 You can see a screenshot of the actual page of my account (I blurred some of the personal/sensitive items). What could make this even better? There is an app for my iPhone! I can update/add/check off completed items at any point! How awesome is that? And oh yeah… did I mention it does not cost you anything?
To be completely honest, they do have a Pro Membership. The basic membership is free. 100% Free! and it works fantastically. I did upgrade to the Pro Membership when there was a problem with one of their servers a year ago. There was a brief time period (i.e., a few hours) when data was not updated from the website to my iPhone. The professionalism in handling the incident was so top-notched that I felt compelled to upgrade just because I was so grateful for how they communicated what they were doing, timelines to normal service, etc.
By the way – the upgrade is only $14.95/year! If you do upgrade, you get nice additional features.
As you can tell, I have an incredible amount of gratitude and love for this website & app! What do you use? Leave a comment and share your ideas and methods for tracking your To-Do list.
Be Well.
Paul.
The Gratitude Guru