Gratitude for Missing Money Found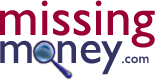 There is gratitude in them thar hills!
Yesterday's post about free money seems to be a hit! There were a few comments on the post as well a lots of email received directly! Apparently when you talk about free money people like it!
Keeping in the theme of high emotional gratitude and the 'Yippee' feeling, I would like to share another website that may literally have money waiting for you! If you are a long time subscriber of the Gratitude Burst (back in the days when it was simply called the Quote of the Day), you may recall the website, Missing Money.
If you are like me, you enjoy receiving unexpected money!
I have written about this in a couple blog entries (see here) – I love when the universe presents money to me simply because I deserve it. That bring me more gratitude!
If that sounds to 'new-agey' for you, just check out the fact that the US government has a site where you can see if there is any unclaimed money due to you! Simply go over to Missing Money.
and enter your name and state – you may have money coming to you!
Just so you know, I do not get a cut of the amount, nor is there any commission involved. I am just passing this site on to you. I am grateful that I did get some money back from this site about a year ago! I hope you do as well!
Be Well.
Paul.
The Gratitude Guru