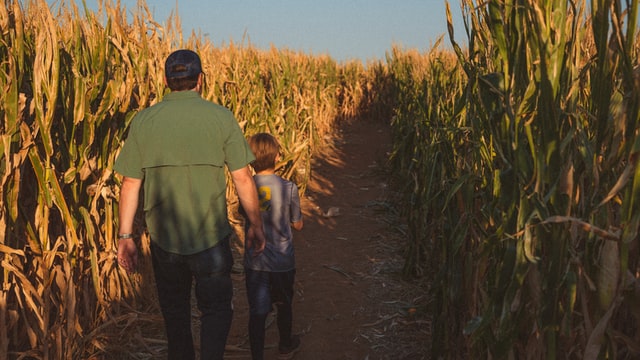 Today we went to a Corn Maze at the Norz Hill Farm! I had a lot of fun going on the hay ride/tractor ride out to pick pumpkins, gather gourds, and to see a working farm. They have many animals, but primarily they have cows. One of the facts that stuck in my mind was the spiel on the way to the animals – "The cows are milked twice daily. The first milking is at 3:00 AM and the second one is 12 hours later at 3:00 PM". My first thought was, "They need to change that schedule! If it were me, I would go for maybe 6 & 6 or even 7 & 7!
As I started to think about it, I realized how much I take for granted many things. When I need milk for my Fruity Pebbles, I simply run to the corner store and get a half-gallon, hand over a couple bucks and away I go. How easy is that! I have NEVER consciously thought about what it takes for that gallon of milk to be in my hand. I have never thought of the farmer who is out there at 3am in the morning milking those cows. I know how hard Farm Life is (OK, I think I know – I have never lived on a working farm) but it never occurred to me how fortunate I am to have so much done for me on a daily basis.
Think about what is provided for you on a daily basis and you will find there is a lot of things in which you can be grateful.
Be Well.
Sign up for the Gratitude Quote of the Day at:
www.AllAboutGratitude.com