It's a Gratitude Card Writing Campaign!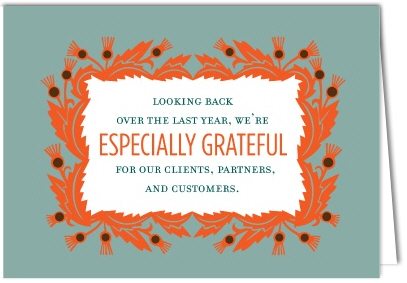 I was talking with a good friend of mine, Brian E., the other day and he gave me a great idea! He suggested that I start a card writing campaign to express gratitude towards others.
"Hey Paul – why don't you write 30 cards to 30 people in 30 days? You can call it the 30 days of gratitude and let folks know how grateful you are!"
My first reaction was, "Eh – people already know I am grateful for them – after all… Gratitude is my thing!"
But then it hit me… What a great idea! I can do that! I should do that!
There is nothing wrong with formalizing any sort of plan. By saying yes to 30 cards to 30 people in 30 days (basically 1 card a day for a month) I am putting a structure in place that I can track. If I can track it, I will do it!
What do I expect to get from this?
Nothing! I have no expectations, no pre-determined outcomes. I am just doing what I normally do – expressing gratitude – except using an actual, physical card. I suspect my life will change for the better – after all, spreading gratitude is always a great thing to do!
When will I start?
Today! My first thought was that I should start on July 1st. A new month. A great time to start. But why should I wait? There is nothing that says I cannot start today! I can start anytime I want. There is no better time than the present! So, today, June 5th I am going to officially send out my first card!
Wanna join me?
You Can! Just decide to send out 30 cards to 30 people in 30 days and get started! If you want to let me know you are doing this, great! If you just want to do it on your own, that is great also!
What Are The Rules?
Rules? Hmmm… No real rules. Just pick 30 people that you want to express your gratitude towards and send them a card. You don't have to list them all out in the beginning – just think of 1 person to start. Send him/her a card. Do the same tomorrow and the next day and the next. Lather. Rinse. Repeat!
If you want to send out 2 cards in one day, go ahead! Go crazy! I am flexible! Just do your best to get 30 cards out in the 30 days!
That is my plan and I am sticking to it! I will be posting each day about how things are going! It would be great if you want to join me! In fact, if you want to send me a card, I will certainly send one back to you!
Be Well.
Paul.
The Gratitude Guru