When Oprah Talks About Gratitude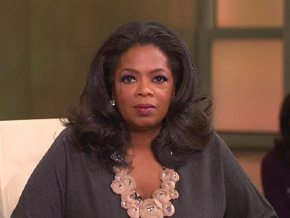 On a scale of 1-10, how much gratitude do you feel or experience on a regular basis? Is it on the scale? Or is off the scale, below 1 or even above a 10?
Oprah says,
"The single greatest thing you can do to change your life today would be to start being grateful for what you have right now. And the more grateful you are, the more you get."
I am not a huge fanatic of Mrs. Winfrey's show, or should I say her new network. I do admire her for her success and her ability to turn everything she touches into gold. She certainly is a smart women who expresses her gratitude frequently.
Oprah Winfrey's early years were anything but successful. You know how her story unfolds and where she is today. She is in Forbes' Top 10 Most Powerful Women in the world. And she is always talking about gratitude. Maybe there is something to it!
If you don't believe it, should you? Is it worth trying? Is there any negative consequences to feeling the gratitude in your life? Can anything bad come from sharing gratitude?
The only negative consequence that I can think of would be that completely ignore reality and turn you back on what is really happening. As an extreme example of turning your back would be not fixing the breaks on your car and getting into an accident knowing that you will be grateful to get a new car. That is an example of not having your feet planted in reality.
OK – bottom line – try experiencing gratitude – you have plenty to gain from it – just look at Oprah!
Be Well.
Paul.
The Gratitude Guru