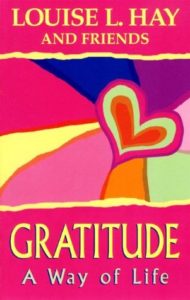 In today's resource item, the book, "Gratitude: A Way of Life" provides some insights of some of the most wonderful teachers and writers who have demonstrated the power of gratitude in their own lives. The core of the readings is the theme that gratitude is a simple yet powerful means of aligning ourselves with our spiritual source. It is a gift we give to ourselves as well as to others. Yet this is a gift we can take for granted, much like asking the question, "How are you?" and replying, "Fine, thank you." Each author who contributed a chapter in this book briefly shares an insight on gratitude. Each chapter is like a beautiful, shifting view of the bits of glass in the same kaleidoscope.
A grateful heart is truly an open heart, appreciating life with it's wonders and it's challenges. The chapters are short and easy to read. And if you're feeling down for some reason, read a few chapters and your mood is guaranteed to im
prove!
If you are looking for an easy read with some short and nice, "Pick Me Up" stories, "Gratitude: A Way of Life" may be what you are looking for!
Be Well.
Paul.
The Gratitude Guru