Gratitude for The Success Principles
My gratitude is increasing with each page that I am re-reading of Jack Canfield's book, The Success Principles. I read this book when it first came out in 2006. I even have an autographed copy from the time I spent a week at one of his workshops out in Southern California.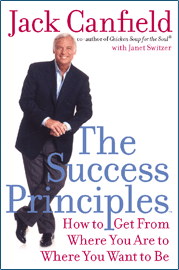 As discussed in the Gratitude Burst for today, you have to take 100% responsibility for your life. Period. No blaming others for what is happening in your life. No whining about the econo
my. It is all up to you! As Jim Rohn stated,
You must take personal responsibility. You cannot change the circumstances, the seasons, or the wind, but you can change yourself.
One of the first stories that Mr. Canfield writes about is how he learned to take full responsibility for himself. At the time he was working for W. Clement Stone. Jack writes,
When I was completing my first week's orientation, Mr. Stone asked me if I took 100% responsibility for my life. "I think so," I responded.
"Thus is a yes or no question, young man. You either door you don't."
"Well. I guess I'm not sure."
"Have you ever blamed anyone for any circumstance in your life? Have you ever complained about anything?"
"Uh … yeah … I guess I have."
"Don't guess. Think."
"Yes, I have."
"Okay. then. That means you don't take one hundred percent responsibility for your life. Taking one hundred percent responsibility means you acknowledge that you create everything that happens to you. It means you understand that you are the cause of all or your experience. If you want t to be really successful, and I know you do, then you will have to give up blaming and complaining and take total responsibility for your life — that means all your results, both your successes and your failures. That is the prerequisite for creating a life of success. It is only by acknowledging that you have created everything up until now that you can take charge of creating the future you want.
"You see. Jack, if you realize that you have created your current conditions, then you can uncreate them and re-create them at will. Do you under-stand that?"
"Yes, sir, I do."
"Are you willing to take one hundred percent responsibility for your life?"
"Yes, sir, I am!"
"And I did."
Being 100% responsible and living a life of gratitude go hand in hand.
Be Well.
Paul.
The Gratitude Guru