The love, joy, and gratitude I felt from the emails (and comments) received from yesterday's post on So Much Gratitude For So Little commanded me to do a follow-up post today.
Here is a chain carved out of one regular #2 pencil, using only a razor blade, and a sewing needle, without the use of a magnifying glass. It is about 6.5 inches long and contains 22 freely moving links. This piece took approximately 2 years to complete.  It was finished in January 1997.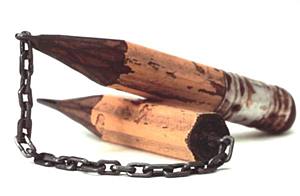 As you can see, Dalton Ghetti creates incredible sculptures in a miniature fashion on the tip of a pencil. He has been carving since he was in school Growing up in Brazil, Ghetti. From wood and stone to soap and candles, he eventually found his niche in pencil tips about 25 years ago and has been expressing his gratitude and his praise ever since. Ghetti uses simple tools — razor blades and needles — to create these delicate little figures.
It can take years to finish a complicated piece. Since he scoffs at magnifying glasses, Ghetti puts in about an hour before his eyes get tired. A few years ago, Ghetti carved each letter in the alphabet and now every morning he carves a tiny tear for every 9/11 victim before heading off to his day job as a carpenter. This project is going to take about 10 years to finish and display altogether.
The idea is, as you walk in, you'll see a huge teardrop far away. As you walk up close to it, you'll see that it's made up of tiny little ones. So I make one a day. I was watching the whole thing from Sherwood Island State Park, and I broke down and cried all day. I had a vision about doing something about it, and that's what I came up with. It'll probably take about 10 years to do it.
-Dalton Ghetti
He is careful in dealing with the creations and hesitates to tell museum directors what he will be displaying in fear that they will break; he saves his failed attempts and pins them into the 'cemetery collection'. These pieces are not for sale. Ghetti showed his pieces at museums but only gives them away as gifts.
"I do it from my heart, I do it when I feel like – and I pretty much do it for myself," he said. "It's my own interest in the small things in life that drove me to call people's attention to them," Ghetti.
Be Well.
Paul.
The Gratitude Guru