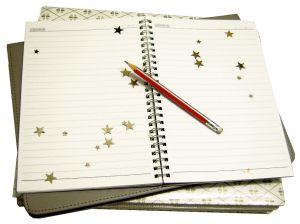 I have been keeping a gratitude journal for some time now. Even though it has been in different forms, I have found that I feel empty when I am not using one. I have discussed this briefly in the past, and I think this is a good time to talk about keeping a Gratitude Journal and why it is an awesome thing to done.
What is a Gratitude Journal?
Anything can be a gratitude journal – an old notebook, a loose-leaf folder, a dedicated journal notebook, an electronic document, or even a collection of scraps of paper! There is no correct right answer to that it physically is – whatever works best for you and your lifestyle is what you should use.
Now that you know what it is physically, let me tell you what it REALLY is. A gratitude journal will become one of the most treasured items you possess! Within your journal, you will write down all the things you are grateful for.
Your journaling can be structured, such as writing down all the things for which you are grateful that occurred in the day; this writing can be the last thing you do before going to sleep. Or, as something comes into your mind, you can write it down. You can take time to write down as many things as you think at one sitting, or simply as they come into your thoughts. Your Gratitude Journal should always be readily accessible so when the inspiration hits you, you have the ability to capture the thought!
As you interact during the day, think about what you can journal about – this will often put you in a more gratitude-filled mood. When you are searching for gratitude, you will easily find it. When you spot something, write it down. You can date each entry or keep it free-flowing. If you want to personalize it, you can include pictures you have taken to help immortalize the moment.
If you ever feel like you have had a miserable day and nothing seems to be going your way, open up your Gratitude Journal and start to read what you have written. After reading a few things, your mood and spirit will shift 180 degrees and help put you back into having an Attitude of Gratitude.
If you are skeptical about doing this, try it out for 21 days. Start with a notebook and date each page, starting with today. Commit to writing something for each day. After 21 days, look to see how you are feeling. You will see that by just journaling each day, you will feel like a new person.
Resources:
Things I have used for my Gratitude Journal:
Simple spiral notebook
Loose-leaf binder
A nice leather binder with exchangeable filler pages (currently in use)
I have created a document using Google Docs (http://www.google.com/docs) – this was accessible to me no matter where I am (as long as I have an internet connection)
There is an iPhone app – Gratitude Journal
Create a new Notebook in the Evernote application
What do you use? Leave a comment below!
Be Well.
Sign up for the Gratitude Quote of the Day at:
www.AllAboutGratitude.com
Note: This post was updated for relevancy on August 6, 2023.